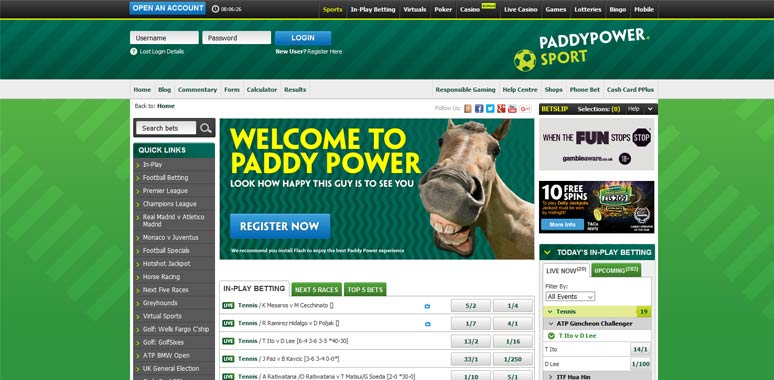 PaddyPower Betting » Review » Bonuses » Promotions
A bookmaker that started out with an irish trio and we`re talking about John Corcoran, David Power and Stewart Kenny and it all began in 1988. The one who had some experience in the field was Kenny, who along with Vincent O`Reilly had entered the market in 1986 selling "Kenny O`Reilly" to Coral.
When the three bookmakers joined forces, they had started with 40 betting shops in Ireland and so has been created Paddy Power. Having the advantage, we call it so, to have started after the golden age of 1961 when betting was legalized and businesses were already taking a new course, valuing much more the client than anything else, they used this in their favour and that was the best thing.
They have focused all their energy into satisfying the customer, into the services they offered and payed much attention to the customers state of mind. We all want to be treated royalty and feel good when we buy services or anything, so the irish owners knew that and started with creating a warm, entertaining environment, unlike other bookies present at the time who were maybe more interested in quantity than quality.
Even though it was the time when some of the already made UK betting companies were trying to enter the irish market, Paddy Power stood tall because none of the others had their "personal" approach and neither were they irish, that counted for something it seems. They were local and they were nice!
They changed the "industrial" touch of business and made a trend in treating customers and their money respectfully, because betting with them made you feel empowered and appreciated, that was the strategy.
They were bold and wanted things to move fast, so they started opening shops all over the country, but not in places where they weren`t seen, but rather in hot spots of the town, proudly presenting their services and using their friendly employees to top that.
2000 was the year when Paddy Power went online as a global online bookmaker and they were still hungry for success, it was just the beginning. They kept their strategy online, offering the same great customer services and soon expanded to become one of the largest european and international bookies online. The company has progressively grown to this day and still growing, always innovating and improving their sales and marketing strategies.
In 2009 Paddy Power took control over the largest bookmaker in Australia, purchasing 51% shares of the company, buying the rest of 49% in 2010. It was official, they had gone international. Always in movement and with a touch of "different".
Customer support is Paddy Power`s key to the business, so including the traditional methods like telephone calls at 08000 565 275 if you`re an UK customer and 00353 1 9050131 for international calls, self help section easy to access, having a great interface which actually helps you to see things you need without searching for ages. The live chat is also an option for those who like to use it and suites them better with their queries.
Speaking of deposit/withdrawal instruments, at Paddy Power you can use credit/debit/prepaid cards and eWallets, generally what all bookies offer. They accept Visa, Visa Electron, Mastercard, Maestro cards and other payment instruments like NETELLER, Skrill, paysafecard(prepaid), PayPal, BANK WIRE, Ukash with no fees whatsoever.
You can use those for your deposits, as for withdrawal, you can use some of the payment instruments above, like debit/credit cards, with processing time up to 2-3 working days, eWallets like NETELLER, Skrill and Paypal, the fastest way to cash out your money, taking 1 to 4 hours only for processing and Bank Wire, from 2 to 5 working days of processing. The minimum amount you can both deposit and withdrawals is £10, no exception, regardless of the method you use.
Sports betting with Paddy Power can really be a very fullfilling experience, since they do value the customers content when it comes to money. They put in play all sorts of rewarding offers and here we can mention the fact that in 2011, the company offered its customers the opportunity to use a short term promo placing their wagers on the finals of Champion League.
The things didn`t go as hoped, considering the promo ended unexpectedly and the company lost €3,000,000. They did not cancel the bets, as they could, as in fact many companies do when the bets do not "compliment" the business, but they payed the money.
Aside sports like football, horse races and all popular and not so popular sports, because they do cover all niches, Paddy Power is also known for the unusual kinds of bettings, like numerous sports specials, football hot offers, hot topics, special teams singular pages, coupons and so on. They provide you with very usefull stats, upcoming fixtures to your favourite football team, all that to support your winning wager.
Live betting, Live streaming( Watch Live feature ) and mobile betting app, all in with great ratings, especially the live streaming which seems to be one of the fastest in real time, on the market. For the part regading mobile online betting we should really mention that Paddy Power was the first bookmaker ever, releasing an sports betting app from Apple and among the very first companies which had gone mobile.
Once you sign up on Paddy Power`s official website you can get your free welcoming bonus, bonus value £30 with a minimum first placed bet of £10 and minimum odds of 1.50(1/2). Apart that, if you go online you`ll be happy to find a series of great promotions you won`t resist, promotions for football leagues and horse races. Remember, with Paddy Power you always win in some way, they always have something new coming for their customers, because we know this is their "personal touch" on the market.
Oh! There are so much things to say about this great bookie that some things are overlooked. You can also benefit from their "European Football Leagues Acca Insurance" which applies to English Premier League, FA Cup, Championships, Bundseliga, Scottish Cup and the list goes on.